Servings
4 persons,
Preparation time
10 minutes,
Cooking time:
45 minutes
Ingredients
500 g stewing lamb, cubed
2 cloves garlic, chopped finely
1 tablespoon fresh thyme, chopped finely
freshly ground pepper and salt
300 g butternut squash, seeded and cubed
150 g parsnips, sliced
150 g sweet potatoes, cubed
125 g celery, sliced
1 medium onion, chopped coarsely
100 ml red wine
125 ml beef stock
1 tablespoon olive oil
Directions
Mix the lamb in the XL steaming bowl with garlic, thyme and pepper and salt to taste.
Mix in the parsnip, sweet potato, celery and onion.
Remove the bottom from steam bowl 3. Place steaming bowl 3 on steaming bowl 2, and place both on the drip tray. Hang the XL steaming bowl in steaming bowl 3.
Pour the red wine, beef stock and olive oil over the lamb and vegetables.
Put the lid on the steaming bowl.
Set the timer to 45 minutes and steam until the lamb and vegetables are done. Stir once or twice. Serve with rice or couscous.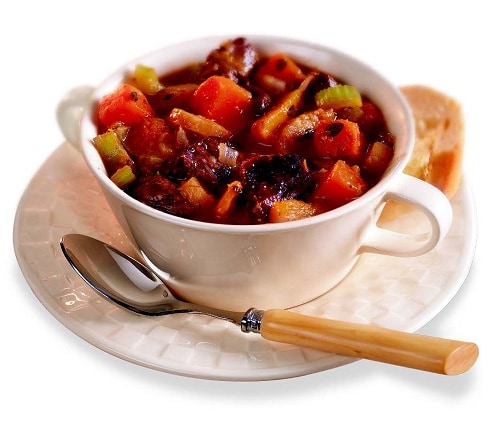 You are about to visit a Philips global content page
Continue
You are about to visit the Philips USA website.
I understand
Our site can best be viewed with the latest version of Microsoft Edge, Google Chrome or Firefox.