Servings
4 persons,
Preparation time
10 minutes,
Cooking time:
8 minutes
Ingredients
400 g finely minced beef
5 cm white of 1 leek, very finely chopped
50 g ham, in fine strips
3 tablespoons bread crumbs
Freshly ground pepper
Nutmeg
Directions
Preheat the airfryer to 200°C. Mix the minced beef with the leek, ham, bread crumbs, some salt and pepper, and nutmeg. Knead thoroughly to obtain a homogenous mixture.
Divide the minced beef into four portions and form smooth burgers with wet hands.
Put the burgers in the basket and slide it into the airfryer. Set the timer to 8 minutes and fry the burgers until nicely brown. Inside they may still be pink.
Serve the steak tartare burgers with boiled potatoes and cauliflower or broccoli.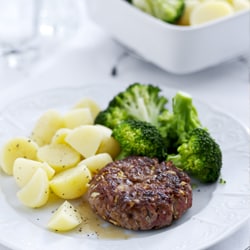 Our site can best be viewed with the latest version of Microsoft Edge, Google Chrome or Firefox.