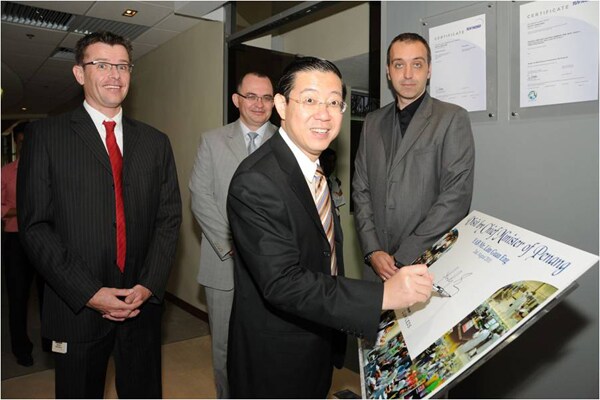 Penang's Chief Minister Lim Guan Eng signing the plaque to commemorate his first visit to Philips Lumileds' factory. Accompanying him from L-R is Jascha Ortmanns, VP of Asia Operations; Akos Nagy, Site Financial Controller; and Glen Brownlie, General Manager, Philips Lumileds Lighting Malaysia.

Bayan Lepas, Malaysia – Penang's Chief Minister Lim Guan Eng brought a bright spark to Philips Lumileds' 1,800 employees when he visited their factory here today. His first visit to the site, Lim was greeted by Glen Brownlie, General Manager; Jascha Ortmanns, VP of Asia Operations; and Lee Weng Seong, Chairman and Chief Executive Officer of Philips Group of Companies in Malaysia, who gave the state's premier a brief on the factory's history before embarking on an exclusive tour of the site. The Chief Minister then capped off proceedings by signing a plaque to commemorate his visit and the state's long-standing relationship with Philips. 
The LEDs produced at Philips Lumileds factory in Bayan Lepas are subsequently distributed for global consumption. With over 10 years of operation in Penang, Philips has been a long-term investor in the state's development into becoming the Silicon Valley of Malaysia – Penang contributes nearly one third of Malaysia's exports value and more than 50% of electronic exports. Philips Lumileds Lighting Company is a leading manufacturer of high-power LEDs and a pioneer in the use of solid-state lighting solutions for everyday purposes including general illumination, automotive lighting, and consumer electronics like LCD displays.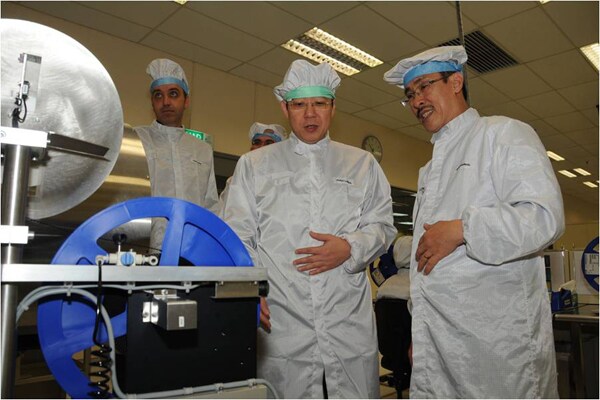 Penang's Chief Minister Lim Guan Eng looking at one of the machines at the Philips Lumileds' factory.

The Chief Minister's visit is part of his familiarization of the various industries that have operations in the state. Penang's GDP has grown from approximately RM1.3 billion in 1970 to RM33 billion to date and this increase is largely due to the expanding manufacturing sector that now accounts for 39% of Penang's economy. At the recent World Cities Summit's Ministerial Dialogue, Lim reiterated his focus to propel Penang forward as an international city, high-income & knowledge economy with a GDP of USD20 billion and per capita income of USD15,000 by 2020.