Penang, Malaysia - Philips today announced the launch of its SimplyHealthy@Schools program in Penang, where employee volunteers will run seminars to educate children on how they can improve their health and well-being.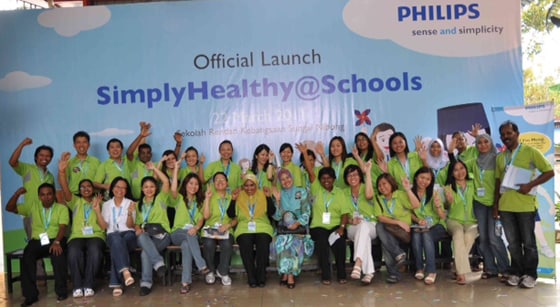 As part of the program, Philips is also upgrading the lighting systems at the Sekolah Rendah Kebangsaan Seri Relau, Sekolah Rendah Kebangsaan Sungai Nibong and Sekolah Jenis Kebangasaan (Cina) Min Sin primary schools in Penang. The company will replace old lighting with new LED (light emitting diode) systems in the classrooms to provide a better learning environment and help schools to save energy costs. This marks the first time that Philips is installing LED lighting in classrooms in Malaysia.
LED lighting is very energy efficient and has a much longer lifespan than traditional technologies. LEDs can be 5 times more energy efficient than incandescent and its long lifespan means fewer replacement and maintenance requirements. This will result in significant cost savings from lower energy consumption and maintenance.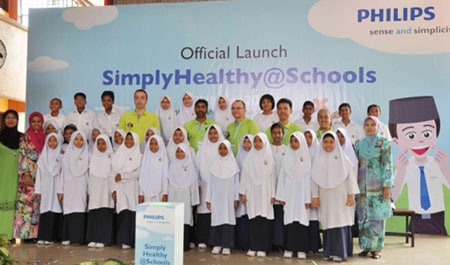 Present at the launch ceremony in Sekolah Rendah Kebangsaan Sungai Nibong today is Mr. Glen Brownlie, General Manager of Philips Lumileds based in Penang.
"With SimplyHealthy@Schools, we want to share our expertise in many areas contributing to the health and wellbeing of people around the world to improve children's knowledge of healthy living," said Mr. Brownlie. "And by demonstrating how simple it is to save energy, we hope that the students will also cultivate a habit for doing the 'little things' that will help to protect and care for our environment."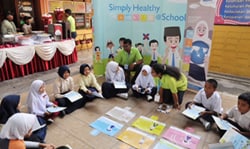 The SimplyHealthy@Schools program aims to educate school children by creating awareness of the positive influence that they can have on their lifestyle and environment. The program is built around 5 Healthy Heroes designed to impart knowledge to children about air, water, light, exercise, oral care and the environment. Philips volunteers engage children in various activities that are not only fun, but also educational and inspirational.  As part of the program, Philips also provides free upgrade of lighting at the participating schools.
"Sustainability is an integral part of our Philips DNA and a driver for value creation at the heart of our health and well-being strategy," Mr. Brownlie said. "By providing what we can through lighting and education, we hope to educate, engage and empower the next generation to live healthier lives and learn to care for the environment."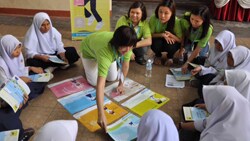 "We are excited to roll out the SimplyHealthy@Schools in Penang and upgrade the lighting in the schools here to LEDs as Penang is home to our Philips Lumileds factory. This program is a great platform for us to give something back to the local community," he added.
Last year, more than 3,500 Philips volunteers reached out to 63,000 students in 38 different countries across the globe. The SimplyHealthy@Schools campaign has successfully launched in countries such as Thailand, Singapore, India, Russia, UK, Ireland, China, Taiwan, Hong Kong, and Netherlands.
---
For further information, please contact:
Lim Bee Hong
Regional Corporate Communications
Tel: + 65 6882 3267
Email: bee.hong.lim@philips.com

Issued by Fleishman-Hillard Kuala Lumpur on behalf of Philips Malaysia
For media enquiries, please contact:
Sreedharan Subramaniam
Tel: 03-2283 2730/ 019-664 9606
Email: Sreedharan.subramaniam@fleishman.com 
Cheri Lim
Tel: 03-2283 2730/ 012-2180017
Email: cheri.lim@fleishman.com